XRS (Extensible Radio Specification) is a standard-based platform for the control of radio devices (receivers or transmitters) by a computer.
The XRS standard defines the interface between a radio control program (the 'Server') and an add-on plug-in software module (the 'Client'). The specification is flexible enough to allow for a wide range of radio devices to be enhanced by a wide range of plug-ins.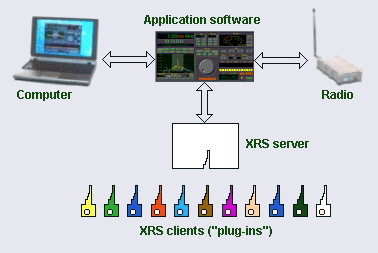 If the radio application software is equipped with an XRS Server, then additional functionality modules (XRS Plug-ins) fit into it like keys into a lock, regardless of the type or model of the radio device.
The result is a platform which makes additional radio control functionality simple and easy to develop. The XRS standard benefits everyone: radio users, third-party software developers as well as radio manufacturers.
NEWS

New versions of all plugins are now available in the download section.


All plugins are now compatible with G3x3 and G3x5 series receivers and supported under MS Vista, including Asian versions.
---
XRS Plugins Worth Having

The Calibrated S-meter plug-in shows signal strength in absolute values (dBm, microvolts or S-units) and doubles up as a signal strength logger, too.

If you are interested in searching for suspect signals (surveillance counter-measures), then the Mini SIGINT plug-in might be of interest

The Advanced Search plug-in puts the scanning facilities of your receiver on a higher level.

You will find an astonishing, breakthrough concept in the Two-Dimensional Tuner plug-in.

Radio Basic is probably the most significant XRS plug-in yet developed. It has its own Web site on www.rbasic.com.
Want to be informed? Subscribe now to receive advanced information about XRS and new XRS-capable products.